So I sort of disappeared for a while, it has been about 2 years since I have posted anything but I have been working on and off on the machine and I did eventually finish it. But before I finished it, Joshua Updyke ran a class in Mexico that built a version of the machine. They has some success, but I am not sure they got it fully running in the little time they had to build it (I think it was a week). Here is link to some pictures they took during the class.
Then a friend of mine at work suggested I make one for a friend of his who was just getting started in DIY CNC. Life was hectic for a while so it took me a few months to finish assembling my machine and then I tried to quickly cut out the pieces for Paul's machine. Well apparently my machine was not quite square, so the new machine had some issues with squareness and overall Paul was unhappy with it. Beside the squareness issue it also had a lot more flex than he was willing to deal with, it was hard to adjust the bearing tension and a number of other things… he did a number of modifications and managed to get a machine that while not perfect works for him. Paul builds quality stuff for a living and expects/needs his tools to work well, were as I build things to play with as a hobby and am happy if they work sort of well so part of the issue is one of expectations.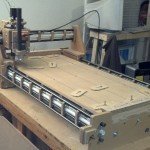 While this was going on I started working on a hopefully more robust 4×8 machine for Paul based on some other ideas I had, and we spent a number of Sundays working on it before I got busy with personal stuff and then winter set in. In the meantime Paul was using the 2×4 machine and mentioned that we was getting a lot of wear on the gas pipe rails, so I started thinking about other rail and bearing designs with the goal of using a better rail material, simplifying the bearing construction and allowing for easier tension adjustments.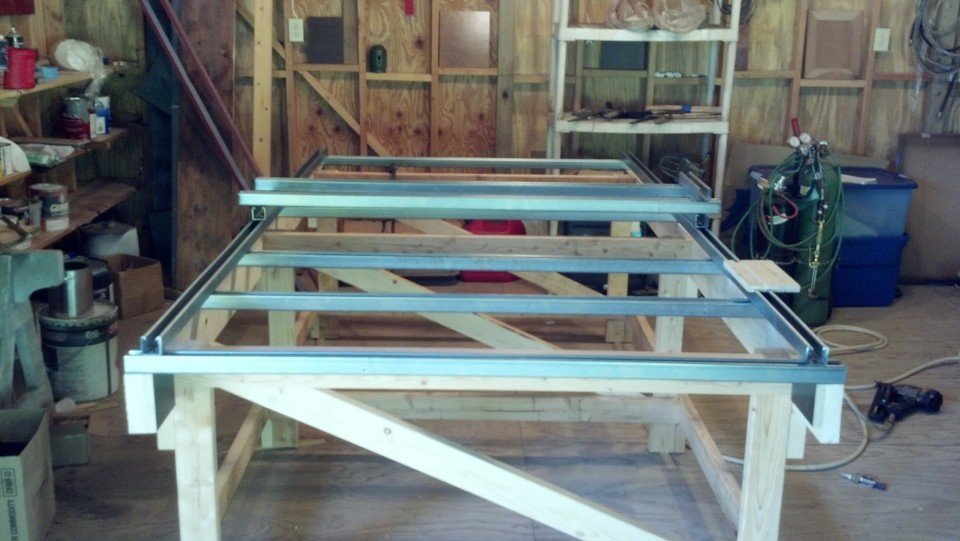 Out with the old..
So I am writing this update not to say the machine is finally done and the plans are posted, but to say that I think this design is not the one I am going forward with, it is too complicated, hard to put together, and really not the machine I hoped it would be. I know I could probably incorporate some of Paul's changes and suggestions and make it better, but I think I have some up with something better. That being said, I do intend to release the plans I had been working on, I just need to get the file set in order and I will post it (no really).
In with the new.
The concept I am working on is something you can just bolt to an existing table, in fact I went and picked one up at the local Goodwill to build the prototype on. It is sort of modeled after the early shop-bot concept.
The bearing design is really the new element here, it rides on a single piece (per side) of 1″ square tubing mounted in a v-groove cut into a 2×4 piece of material (2×4 in the prototype). The bearing tension can be adjusted using a wench, and by using a pair mounted to flat piece of wood you can create an assembly that moves easily and does not lift of the rails.
This is the first prototype built, I was using bolts to adjust the spacing between the top and bottom bearing but ended up replacing those with a piece of wood to simply things.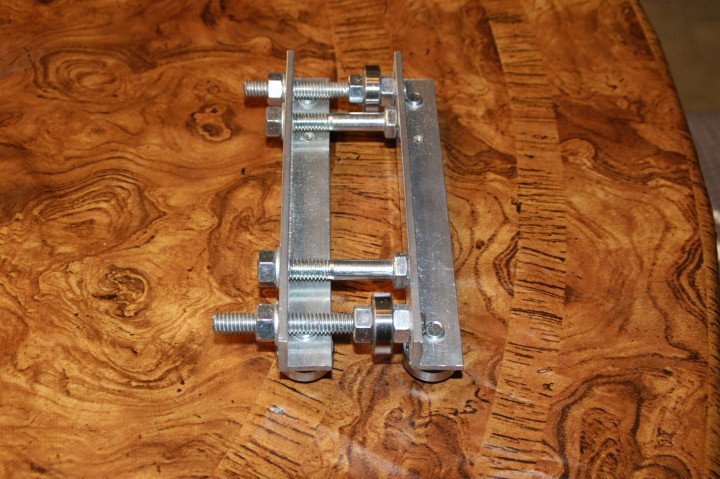 Once I was comfortable that it seemed likely to work, I did a little sketch up drawing and staring cutting parts out making modification on the fly as needed. My biggest concern was the Z-Axis and I originally thought I would build box type assembly and support the router with 2 sets of bearings (front and back), but after making one side of the prototype, I think 1 side should do just fine.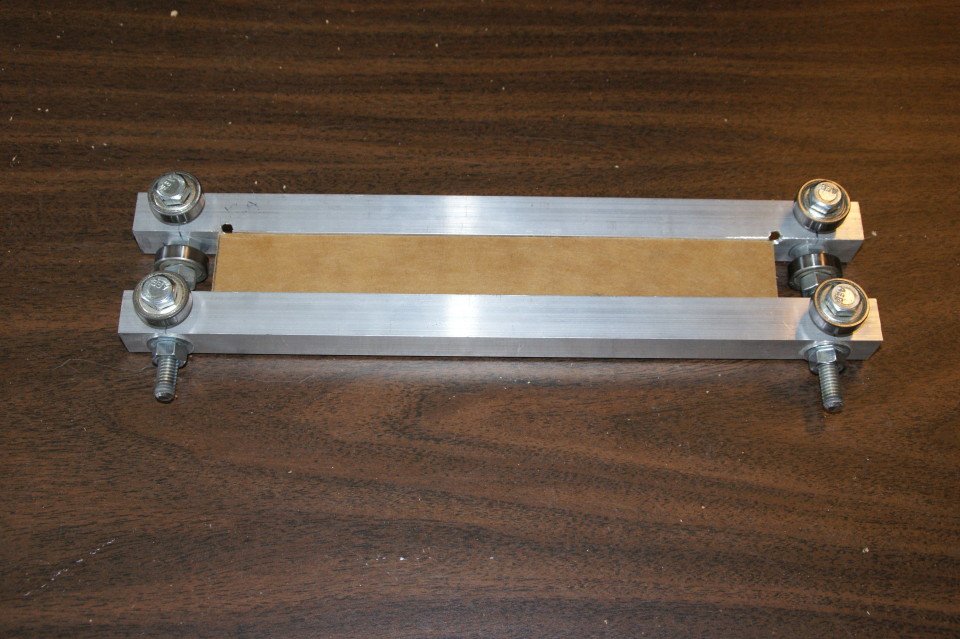 Here is a video version of this update that shows what I have built so far in action:
Further Video Updates: