It has been a month since I did my first cuts with the new machine, and yet those very cuts were already the start of the next machine.
I started by creating a new cad project and importing all of the pieces that I felt worked from the old project and then began modifying them to eliminate things that did not work as well as I would have liked. I then proceeded to make a number of changes I thought would make the machine better and easier to assembly. I think the results are a little mixed, I really like look of the new design, and I think it will be easier to assemble and more sturdy overall, however I nearly doubled the number of cross dowel connections being used which adds complexity to the production and build process.
I decided to make another attempt (my 3rd) at using Sketchup to assemble things in 3d to try and catch any errors before I start cutting. And thanks to a Goggle search which turned up this blog entry: In Sketchup… How to Import & Trace 2D CAD Drawings, and another 9 months experience playing around with cad programs it actually worked this time.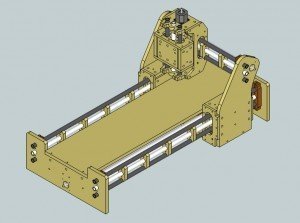 The machine was designed with a 24″ x 48″ cutting area in mind, but it should be easy to build up to a 24″ x 60″ cutting area (~36″ x ~72″ foot print), the one shown has a 12″ x 36″ cutting area with a foot print of ~24″ x ~48″.
I have also used a combination of the Google SketchUp Web Exporter, Create Image ruby script, and tweaking of the javascript from the web exporter to create a rotatable 3d graphic to show off the machine, please take a look and tell me what you think.
Click the left mouse button and move left or right to rotate the image.
Here are some more static images to help complete the picture.