OK, so here we go again.
A running theme in my building process is budget, I am always trying to build adequate parts myself instead of buying them. This has two goals, 1) Save money, 2) Learn how to create the parts I need so I can replace them as needed, and build more for future machines. This week's project was couplings, specifically I needed four 1/4″ to 1/2″ couplings. I am modeling my attempt after this: DIY Coupling, and my own prior experience with using 1/4″ brass sleeve bearings for my first machine.
I decided to try and find some aluminum tubes that would fit the 1/2″ acme rod and 1/4″ motors shaft that would also nest inside each other. I found what I was looking for at OnlineMetals.com, and order the following:
0.75″ OD x 0.125″ WALL x 0.5″ ID 6061 T6 TUBE
0.5″ OD x 0.125″ WALL x 0.25″ ID 6061 T6 TUBE
They arrived in a week, I opened the box, took out the tubes and… the 1/2″ OD tube did not fit inside the 1/2″ ID tube… <*despair*> …If I only had one of they little metal lathes I could fix the problem. I have a drill press, and some 1/4″ nuts and bolts, instant vertical lathe, game on.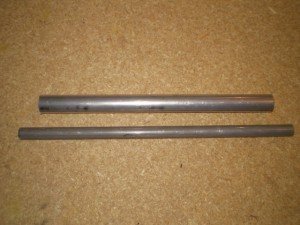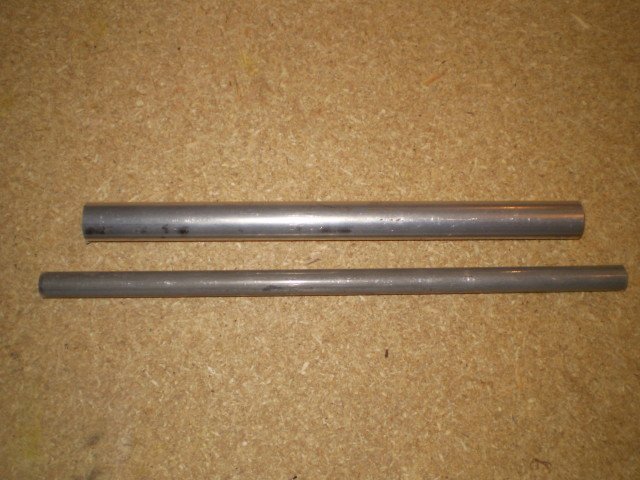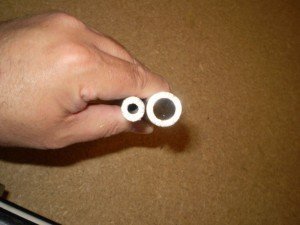 I started by cutting 4 – 1.25″ pieces of 3/4″OD tube and 4 – .75″ of the 1/2″ OD tube.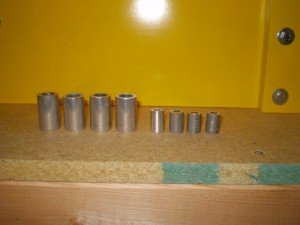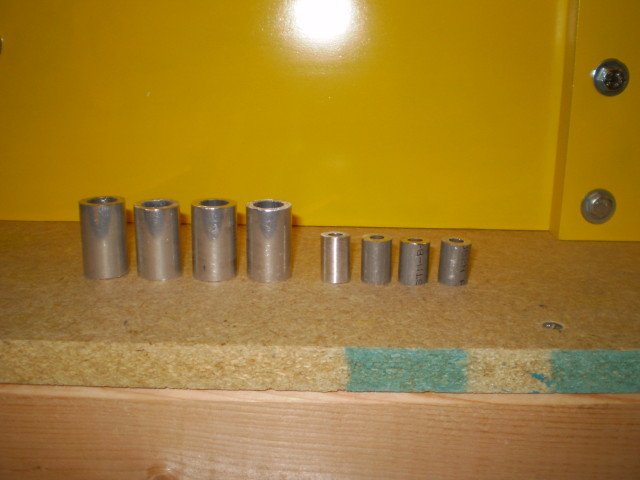 I then needed to take a little bit off the width of the 1/2″ OD tube pieces. I did this by putting a bolt thru each piece, securing it with a nut…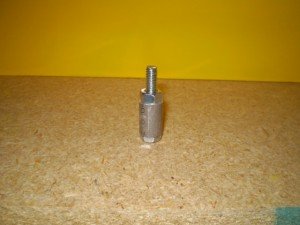 and then placing them in the drill press and using a file to to remove a little bit of material at a time until they fit snugly into the outter tube, I also used a piece of 220 sand paper to give a nice smooth finish.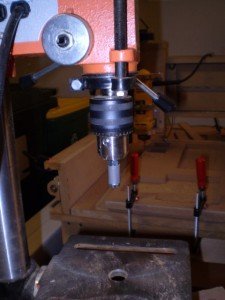 The pieces now fit together and are ready for tapping.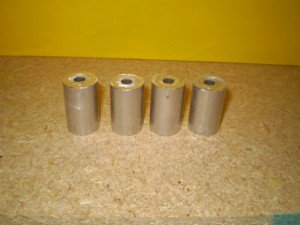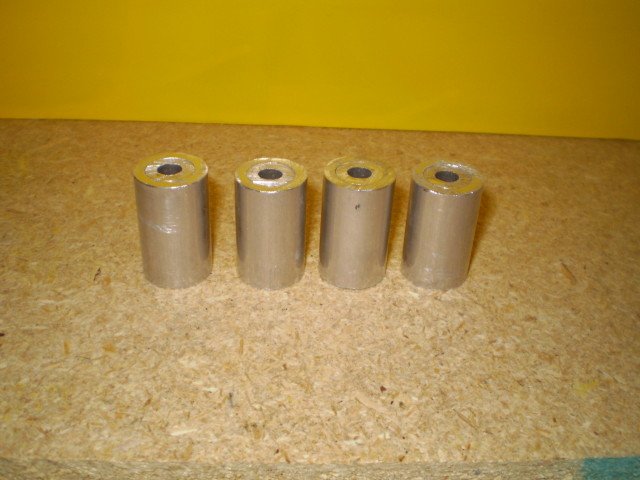 Did I mention I hate tapping stuff, especially when the taps are small. I got the first one tapped without any issues, but I managed to break the tap off in the second one. The attempt at removing the tap with any/all sorts of gripping tools only broke it to the point where I could not get a hold of it anymore.
I decided to just cut another set of parts and be done with it, which would have been great if I could have managed to cut straight. I usually use a hack saw and a plastic miter box to cut the few pieces of aluminum I need, which usually works OK, but I did not manage to cut straight on any of the 4 parts I cut that night…argh much bad language ensued. So this is what I ended up with: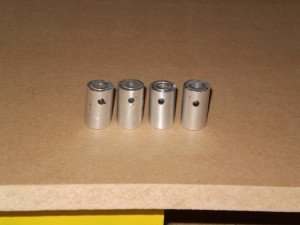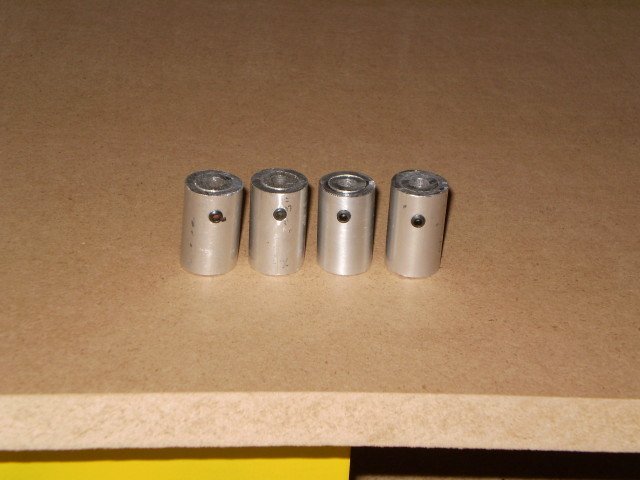 You'll notice the left most one has a definite lean to it, it really won't make a difference since the tubes are straight, but it bugs me.
I see a chop saw in my future.
A quick test on the threaded rod and a motor shaft and I am good.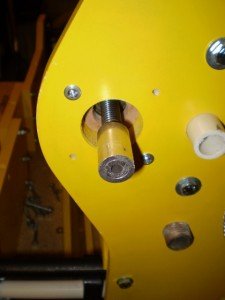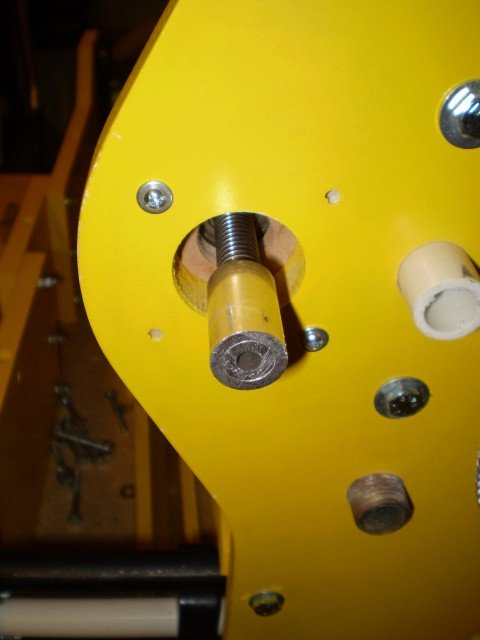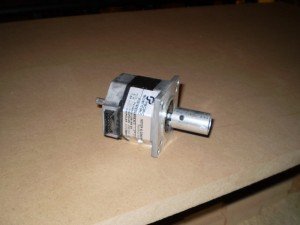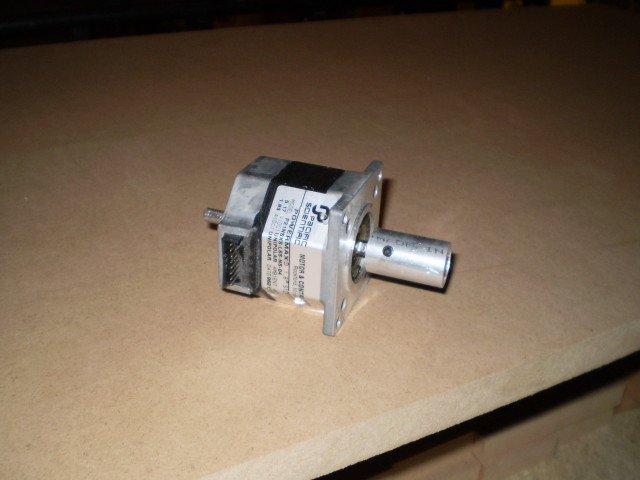 I plan on drilling thru the coupling and rod and using a #6 screw and nut to secure the lead screw to the coupling, which is what I did on the first machine, but there is no reason another set screw could not be used, this particular tube has a nice thick wall, and of course there is always locktite.
Random bits…
I found some 1/2″ ID brass sleeve bearings that a 1/4″ nylon spacer fits perfectly in at my local ACE hardware, I may buy a couple and give it a go. It would cost about $4 a coupling, but that is still cheap, and I think you could get away with no cutting by letting the spacer hang out of the brass bearing a bit (towards the motor). I'll post the results if I head down this route.
I am also going to try and remove the broken tap, I'll post how that goes as well.
And finally here is a picture of the current machine build with the table on top (just test fitting), the one thing I noticed is that once I add a spoil board I have maybe 2″ for material, which is not what I intended, but will work for now. I will cut out new legs with a lower table once I have this thing operational.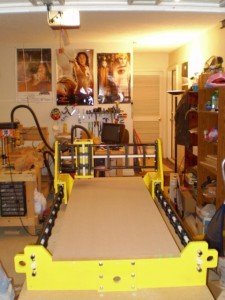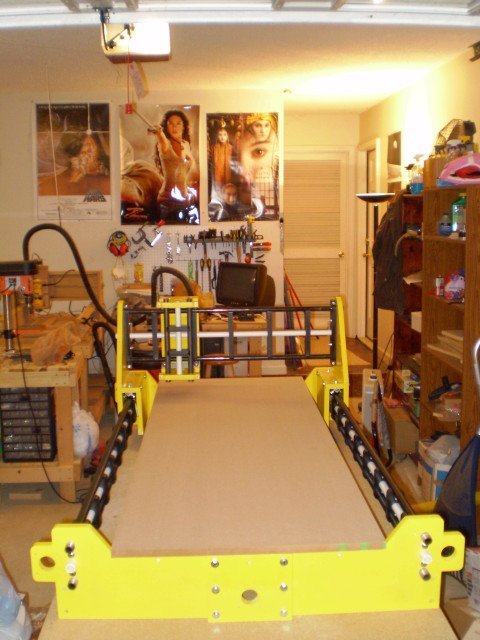 I should be posting another update in the next week or so, so until next time…