Wow, six months since I last posted something, not sure what happen there. I guess between work, family, home improvement, and critter control (bats in the attic vents) the time just whizzed by, kind of depressing… But no I am not dead yet, and neither is the new build, in fact it should have its maiden flight in the next week if I don't break something again.
I left off in the last post with having just cut some new parts to replace one that I broke while running some tests… well after sanding, priming and painting those… I was unable to fit everything thing together due not pre-fitting the pipes before I started assembly, it was too tight and I split the pieces trying to pull it apart… there is no photographic evidence, but it wasn't pretty when I was done with the rubber mallet. Re-cut the parts, drill, sand, prime paint… and I split both of pieces clamping down the z axis pipes… not happy. At this point I went back to the previous version of the parts, I did not sand anything, but did prime and paint, and I had no issues with the assembly, of course the parts are rough looking, but it is together.
So the next step was to mount the router. I purchased a Rigid R2400 back in January, but looking at the router and the machine, I realized I had been thinking about the Dewalt DW660 when I design the mounting plate. The DW660 is a much longer tool than the R2400, so I could not use all 4 holes that I had planned for mounting the router. I ended up cutting a simple clamping mount out of some Trex decking I had left over from re-cutting the lead nut carriers, I think it came out well and it seems plenty solid.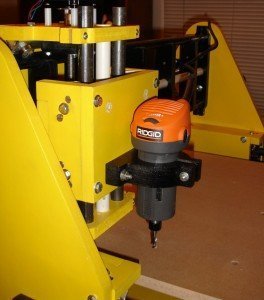 So now I needed to square and tighten everything up, but I was concerned that the machine base was not rigid enough. I had originally planned on having side rails attached to the Y axis legs that would ensure even spacing of the legs and help sure up things, but once I started assembling everything I found that there was not enough clearance between the gantry and the proposed side rails. Since I already had holes for the side rails, I decided to cut some small legs (more like brackets I guess) to fit into the rail mounting holes and use these to anchor the machine to the table. Yes they look a bit goofy, but it is for the greater good.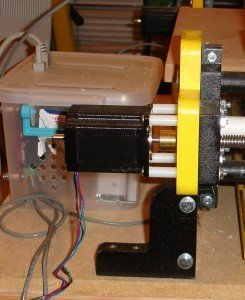 Once these legs were attached I proceeded to square the machine to the table top and screw it down. The goods news is that it is not going anywhere…ever, the bad news it that If I need to pull it apart to fix something it is going to be 'not fun'. Everything else looked pretty good except for the gantry legs, which had some splaying toward the top… out came the rubber mallet… I managed to square things up and not break anything for a change.
So this is where things stand as of right now.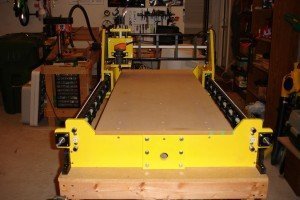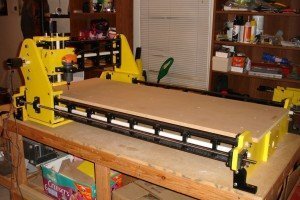 I still need to do some tuning in EMC2 to see if I can get better than 30 IPM out of it, get the cables out of harms way, and hopefully get some sort of vacuum mount set up so I can use the Dust Weasel with it. But I am telling you man, it's almost there.